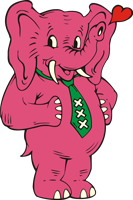 Koop tickets met korting online
Tickets zijn zonder datum en 1 jaar geldig na aankoop.
Reserveren: alleen voor groepen vanaf 10 personen.
LET OP: Vanwege coronamaatregelen schenken wij geen dranken aan bezoekers die na 23.00 uur binnenkomen. Bij bezoek na 23.00 uur vervallen vooraf bestelde dranken.
Minimumleeftijd: 18. Zie openingstijden
Buy discount ticket online
Tickets are not restricted to a date and valid until 1 year after purchase.
Reservation: only required for groups of 10 or more.
Due to covid19 restrictions: no drinks will be served for arrivals after 23:00. Admission after 23:00 will void your drinks voucher.
Minimum age: 18. See opening times.
Online prices
Entrance: € 37,50 pp (at the door: € 40,00)
Entrance + 2 drinks*: € 47,50 (at the door: € 50,00)
* also strong liquor (branded bar) and mixed drinks